"Never doubt that a small group of thoughtful, committed citizens can change the world; indeed, it's the only thing that ever has." Margaret Mead
Whether it's the bully on the playground or our current administration, when small groups of "committed citizens" come together to speak out against social injustices and human rights violations, they are likely to change history – starting with legislation.
In California, February has been a month of  inspiring, "committed citizens" speaking out for civil rights, starting with California Assemblyman Al Muratsuchi. In alignment with and in honor of California's Day of Remembrance, Muratsuchi introduced HR 77, a bipartisan bill acknowledging and apologizing for California's role in our nation's treatment of Japanese Americans during WWII by its support of Executive Order 9066, which authorized the unlawful removal Japanese Americans from the west coast following the bombing of Pearl Harbor:
"Every year during the years I've been in the California Legislature, I've introduced a resolution to commemorate the Day of Remembrance, that I know many communities across the country observe to remember the lessons of Executive Order 9066.

But this year I wanted to do something different and have California lead by example. While our nation's capital is hopelessly divided along party lines and President Trump is putting immigrant families and children in cages, the California Legislature, with HR 77 will be issuing an official, bipartisan measure for its own actions taken that led to the incarceration of over 120,000 loyal Americans of Japanese ancestry behind barbed wire."
On February 22, HR 77 was unanimously passed.
Note: Muratsuchi called out a number of survivors from the internment camps who joined him for the above press conference. Please visit the Time of Remembrance Oral Histories website (which I co-direct) to learn more about the stories of Marielle Tsukamoto, Christine Umeda, Kiyo Sato, and Les Uchida.
Thanks to an invitation from immigration attorney and dear friend Kishwer Vikkas, yesterday I had the pleasure of joining Marielle at the Tsuru for Solidarity event at Sacramento's Parkview Presbyterian Church.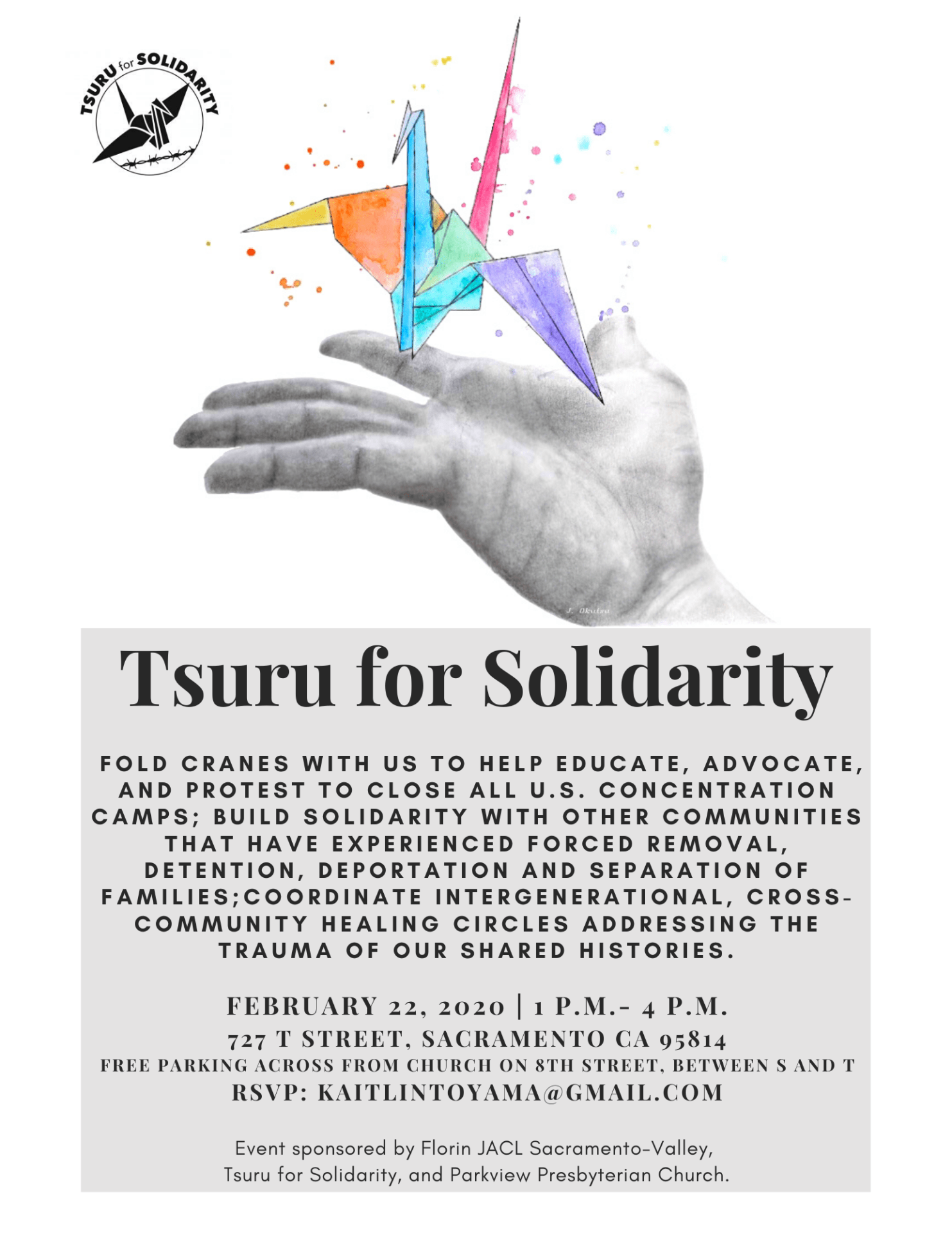 The purpose of the event was fold and string paper cranes, with the goal of contributing 125,000 cranes to the Tsuru for Solidarity's National Pilgrimage to Close the Camps, which will take place during June in Washington, DC.
"Tsuru for Solidarity is a nonviolent, direct action project of Japanese American social justice advocates working to end detention sites and support front-line immigrant and refugee communities that are being targeted by racist, inhumane immigration policies. Tsuru for Solidarity stands on the moral authority of Japanese Americans who suffered the atrocities and legacy of U.S. concentration camps during WWII."
Parkview's community room was packed with Sacramento residents ranging from survivors of the camps and/or children and grandchildren of survivors to community activists and educators, all with the shared commitment to #StopRepeatingHistory.
For three wonderful hours, I tried my best to follow the directions so patiently modeled by those at my table for folding a square sheet of paper into a crane. I watched in awe as the piles of cranes continued to grow. I was definitely the event's low achiever, but greatly appreciated all the encouragement from my table mates.
But I'm not giving up. Today I'm going to purchase a few packs of origami paper and follow the steps provided in Tavin's Origami Instructions.
I look forward to following updates on the June 2020 Tsuru for Solidarity Pilgrimage to Washington. Many at the Parkview event will be making the pilgrimage, stopping along the way at Heart Mountain and other camps, demonstrating that we are never too young or too old to make a difference.
#StopRepeatingHistory  #TsuruForSolidarity