"Great leaders give credit." George Couros
If you consider teaching students about their intellectual property rights and responsibilities an essential component of a digital citizenship program, I'm with you. So thanks to a recent change by Google and a new Google Docs Add-On by teacher Brandon Dorman, we have two great items to spark discussions on copyright.
Item #1 – Google's removal of the View Image button from image searches – Yes, there has been some public pushback over losing a super-fast way to view and copy an image. Personally, I am glad for the change since image searchers will now use the Visit Site button to view the actual hosting site for images. Although the Visit Site button was always there, image searchers could ignore it.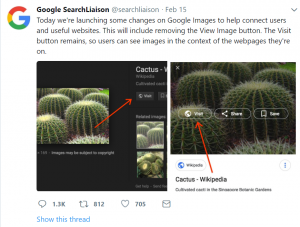 If you are not yet familiar with the Visit Site button, it is from the host site that you will find out exactly how the creator would like you to respect and/or attribute his/her work through Creative Commons licensing (see the video below for a Creative Commons introduction).
For those opposed to visiting the host site and viewing the creator's licensing, there are already a number of workarounds available. I hope the workarounds do not deter image searchers from giving proper attribution to those who are freely sharing their creative work.
Item #2 – Former 7-12 math teacher's Creative Commons Google Doc Add-On – The best way to bring students on board with respect for intellectual property is to have them create and share their own work. So I was delighted to learn about Brandon Dorman's Creative Commons Google Doc Add-On, which makes choosing and adding CC licensing to a Google Doc a snap.

What would make this Add-On even better? I'd love it if it were included in the Google Docs Tools dropdown menu rather than as an Add-On. Due to the agree-to components of 3rd party Add-Ons (which legally equate to a contract), my district blocks student access to Add-Ons and extensions.
At this point, though, for students 13+, I would certainly encourage them to add Brandon's Creative Commons licensing option to their personal Google accounts.
Note to Self: Need to head to Can I Use That? A Guide to Creative Commons and accompanying hyperdoc lesson and make updates to reflect the above items.