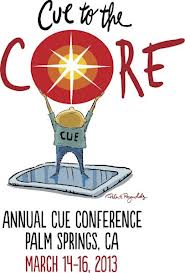 Continuing on with my reflections from the fabulous 2013 CUE Conference, here are my take-aways from:
Friday, Day 2:
Opening Keynote with Sir Ken Robinson – I've been a long-time  fan of Sir Ken, starting with his first TED Talk and his Changing Education Paradigms animation. It was great to  hear him in person and be reminded that:
"Every single one of the 100 billion lives who have walked the face of this earth is unique and unrepeatable…To be born at all is a miracle, so what are you going to do with your life?"

"We have to get away from standardizing to personalizing – in ways that celebrate diversity. Technology drives this revolution.

"Educating is not a process of directing instruction, but to inspire, to feed curiosity, to facilitate. If we aren't facilitating learning, then education is not happening."
Session 5 – Elementary Flipped Teaching – Using the Cycle of Learning to Innovate CCSS Instruction – For a window into Lisa Highfill's innovative teaching, start with a visit to her website. Lisa asks both in her teaching and in her session "What is it I can do now (with new technologies) that I couldn't do before?"  The video below illustrates her  "explore, explain (flip), apply" cycle for delivering curriculum:
Session 6 – Get slammed With Google – Loved the energy in this session! Definitely click on the link to see for yourself how Mark Hammons, Diane Main, Jen Roberts, Bill Selek (no live links yet), Scott Kley Contini, Joe Wood, Megan Ellis rocked the audience with their Google tips and tricks (AKA slams)!
During my whirlwind 2 days at December's Google Teacher Academy, Mark's Google News Archive Search was my favorite "slam." Judging from the post-CUE 2013 conversations on my flight home from Palm Springs, Mark once again wowed an audience. Grand Slam!
Megan Ellis (a MERIT 11 colleague) shared a simple but very important Google tool: custom Google search engines. For educators  like me, who teach tough topics, such as the Holocaust, Megan's How To Tutorial is a gem, simply explaining how to create, for example, a Researching the Holocaust search engine with middle-school appropriate links.
But seriously, you will want to check out each Google Slam demo!
Session 7 – Visual Storytelling, Digital Storytelling, Cinematic Narrative: Literacy Across the Curriculum – Because it is so easy to get sidetracked in great hallway conversations at CUE, I arrived half way into Ken Shelton's dynamic session, something I immediately regretted. Ken laid out the key elements of digital storytelling:
understanding of topic
content curation – simply grabbing a bunch of pictures is not going to to do it – 7 image limit. If you can't find images that work, create your own
media literacy – what is the value of an image? How about music? Does if fit the narration?
develop a storyboard  – Great motivational stratgy that Ken uses with his students (in case they're tempted to gloss over this important pre-producation step): switch storyboards & threaten to grade group on another groups completion of the project
production
reflection – what did you learn? what would you change?
What's missing from my session summary are the powerful images and and stunning videos he used to illustrate each key element.  For example, to show the difference between "digital storytelling" and "cinematic narrative," he shared this BMX video and this stunning Inspired Bycycles video.
If you missed Ken's #cue13 session, but will be attending ISTE 2013, I'll see you in his Making Movies with the iPad, iPhoneography, and Photoshop Basics session. I plan to arrive early!
Session 8 – Explore, Flip, Apply: Empowering the Learning Cycle Through Technology – Although I caught only the tail end of Ramsey Musallam's session (once again caught up in great #cue13 hallway conversations), having heard him present before (MERIT 11, CVCUE Fall 12), I wanted to end Day 2 with his winning style of brilliant + hilarious. I wasn't disappointed.
I think many teachers are put off by the idea of "flipping" instruction because they are concerned about putting hours and hours of time into creating instructional videos that students will be required to watch for homework, another form of lecture-based instruction, often limited to lower-order thinking. Ramsey's approach to flipped instruction definitely taps into Bloom's  higher order thinking skills (applying, analyzing, evaluating, and creating).
Using the Explore-Flip-Apply model, Ramsey has his AP Chemistry students explore a concept first.  Then the "flip" comes in. Rather than introducing a concept with a video, he jumps in on the spot and creates "short, tailored video designed to address misconceptions and assimilation errors that arose during student exploration." Rather than spending hours creating detailed screencasts, the "technology became a slave to the pedagogy, rather than vice versa, and the videos became, if you will, 'inquiry spackle'" (quote from OnCUE, Spring 2013, Vol 35, No. 1).  For tons more resources, strategies, and samples, visit Ramsey's personal website and Cycle of Learning.
Be back soon with Day 3 Take-Aways.